BERLIN
2018-11-14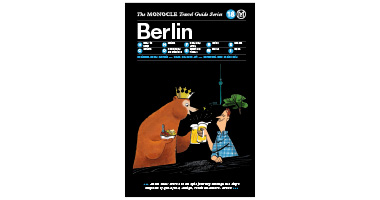 THE MONOCLE TRAVEL GUIDE SERIES
This is a city in perpetual flux and its ability to reinvent itself can be attributed  to its complex history. Today there's a seductive allure to the German capital's dynamism and willingness to create anew. Be it a luxury hotel in an old bathhouse, experimental artwork in a former margarine factory or an ever-evolving roster of musicians and designers, the city thrums with diversity and ingenuity. 

The Monocle Travel Guide to Berlin will take you to our favourite pockets of independent retail and the best places to eat and drink, whether you're after a venerated dining room or a hidden cocktail bar. We'll lead you through the mix of envelope-pushing art hubs and didactic museums. And then there's our round-up of the architectural landmarks that reveals the narrative of this once-divided city. 

Berlin is about more than nightclubs and hammering hangovers – although a night on the tiles here still rarely disappoints. We guarantee that this guide will show that there's plenty more to discover.